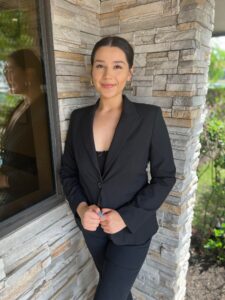 Arizbeth Maciel, BS, Graduate Student Intern
FOCUS:
Sessions in Spanish and English
Hi, my name is Arizbeth Maciel and I am a graduate student pursuing a Master's degree in Counseling Psychology and working towards a certification in Sex Therapy. I have a Bachelor of Science in Psychology.
Family and romantic relationships are some of the most beautiful bonds we have as human beings. As a therapist in training, my work derives from my inspiration to assist families, individuals, and couples to continue to experience the beauty of these bonds. The journey to identifying where to begin; whether it is a family process, a couple's process or an individual process can be overwhelming. I am devoted to being the helping hand that can serve to clarify and understand what can seem to be indistinguishable.
In my free time, I enjoy spending quality time with my loved ones, and I love traveling when I can do so. One of my favorite activities is attending concerts and appreciating some of my favorite artists live.  As a Houstonian, I also love visiting and supporting local Houston shops or restaurants.
I am here for YOU! I am just a human being devoted to helping other human beings discover and work through your concerns and discover the beauty in yourself and your personal dynamics.
Hola, mi nombre es Arizbeth Maciel. Soy estudiante de maestría en psicología de asesoramiento y estoy certificándome en terapia sexual.
La familia y relaciones románticas son unos de los vínculos más maravillosos de un ser humano. Como terapista en entrenamiento, mi trabajo e inspiración en asistir familias, individuales y parejas a continuar en encontrar la maravilla de estos vínculos. El trayecto hacia donde empezar; ya sea  un proceso familiar, individual o en pareja puede ser confuso. Yo estoy dedicada y dispuesta a ser la mano amiga necesaria y servir para encontrar claridad y ofrecer comprensión hacia lo que puede parecer indistinguible.
En mi tiempo libre, disfruto pasar tiempo con mis seres queridos y viajar cuando encuentro la oportunidad. Una de mis actividades favoritas es attender conciertos y ver an mis artistas favoritos en vivo. Como una nativa de Houston, también me encanta visitar y apoyar locales o restaurantes que son únicos para Houston.
Estoy aquí para USTED! Soy un ser humano apoyando a otros seres humanos descubrir y trabajar hacia la maravilla en usted y cualquier dinámica personal.
arizbeth@HoustonRelationshipTherapy.com