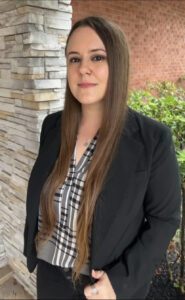 Chelsea Koutroulis, M.Ed., LPC-Associate, CST-Candidate
FOCUS: Adults, Young Adults, Individuals, Relationships, Couples, Sex Therapy,
Anxiety, Life Transitions, Consensual/Ethical Non-Monogamy, Sex-Positive-Kink
Allied.
Therapy is about finding what works best for you! In our sessions, we will work
together to explore your challenges, needs, and desires; and work towards your
goals! I am passionate about working collaboratively with adults and couples that
may be struggling with presenting concerns in their behavior, emotions, and/or
relationships. I am also experienced in working with individuals who are looking to
improve their overall wellness and who are looking to heal.
I tend to utilize a Solutions-Focused and Person-Centered approach in counseling;
but I also utilize a variety of modalities to personalize the therapy experience to
each unique person's specific need. I maintain the philosophy that therapy is not a
one-size-fits-all approach. My goal is to help you through this journey of life and to
offer you a space to be open and understood. I want my clients to feel heard,
supported, and accepted; while at the same time empowered to work through and
reach their goals.
When not working, I enjoy spending time with my partner by attending conventions
or discovering new food places and breweries.
Chelsea Koutroulis is being supervised by:
Megan Pollock, M.S., LPC-S, CST
5959 West Loop South, Bellaire, TX 77401 (P) 281.974.2726
chelsea@HoustonRelationshipTherapy.com