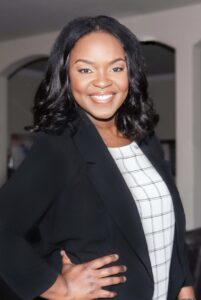 Dr. Mamawah Bourque, PT, DPT
FOCUS: Pelvic Floor Therapy – Women & Men 
As a pelvic health physical therapist, I am passionate about helping individuals improve and manage their physical dysfunction related to the pelvis. Education is a key element in my practice. I want to ensure that my clients develop the brain-body connection needed to correct or improve the physical challenges faced due to sexual and pelvic dysfunction. With over 10 years of experience in correcting movement dysfunction, I am passionate about helping my clients overcome their pain, shame, and dysfunction.
I earned my doctorate degree from Texas Woman's University in Dallas, Texas. After obtaining my doctorate degree, I completed a postdoctoral program at Texas Woman's University for an Advanced Certificate in the Specialty of Women's Health. It is one of my greatest honors to be able to help my patients expand their awareness of their bodies and regain the function in their lives.
I have the skills to treat women and men with pelvic pain, sexual dysfunction, incontinence, gut and bowel dysfunction, post-partum, prenatal, pelvic organ prolapse, and much more. My goal is to provide an individualized clinical plan of care specific to each of my clients.
To visit Dr. Mamawah Bourque's website click here.