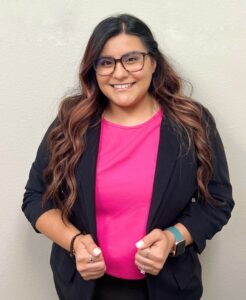 Vanessa Oliva, BA, Graduate Student Intern
FOCUS: Anxiety, Depression, Sex Therapy
Sessions in English and Spanish
Vanessa Echavarria is a student counselor at Houston Relationship Therapy.
I hold a Bachelor's degree in Sociology and am currently working on my Master's degree in Clinical Mental Health Counseling with a certification in Sex Therapy. I work with couples and women with anxiety and depression while also being trained in sex therapy. When not studying or working, I enjoy spending time with my husband and dog in Houston, TX, and working on arts and crafts projects at home.
FrontDesk@HoustonRelationshipTherapy.com
Vanessa Oliva, BA, Estudiante de posgrado
Enfoque: Ansiedad, Depresión, y Terapia Sexual
Sesiones en Inglés y Español
Vanessa Echavarria es una consejera estudiantil en Houston Relationship Therapy.
Tengo una Licenciatura en Sociología y estoy trabajando en mi Maestría en Consejería Clínica de Salud Mental con una certificación en Terapia Sexual. Trabajo con parejas y mujeres con ansiedad y depresión mientras también estoy entrenando en terapia sexual. Cuando no estoy estudiando o trabajando, disfruto de pasar tiempo con mi marido y mi perro en Houston, TX, y trabajando en proyectos de artesanía.
FrontDesk@HoustonRelationshipTherapy.com