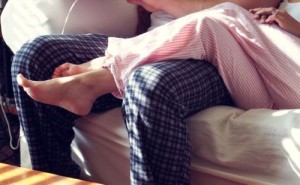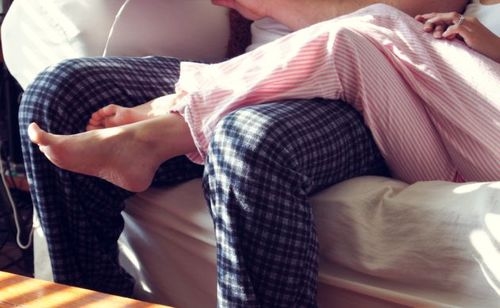 We're in the middle of winter, and as I write this, what will potentially be the biggest snowstorm on record is heading toward the East Coast. Whether you're snowed in, your babysitter bailed, or you just don't feel like getting out, there are many ways to make an at-home date night a sweet way to connect with your partner. Don't forget to turn off your phones, computers, and other distractions – nothing kills the mood like a text message from work in the middle of a date.
Cook Dinner Together.

Open a bottle of wine, put on your chef aprons, and get to work whipping up a meal for you to share. There are plenty of food blogs & websites like

Smitten Kitchen

,

Bon Appetit

, and

Food52

where you can find recipes & ingredient lists. Dim the lights, light some candles, throw on your best music mix (check Spotify or Songza for free themed playlists) and you've got the evening made.
Turn up the heat with game night.

The couple that plays together, stays together! Or as John Gottman puts it, "Happy marriages are based on a deep friendship, mutual respect, and enjoyment of each other's company." Games like Uno, Gin, Blackjack, Dominoes, and Scrabble are great for two people, and allow for conversation, laughter, and a little friendly competition.
Get Talking.

One great way to create emotional connection is through deep conversation.

Table Topics

is a great resource, you can come up with your own list, or you can try some of these questions:
What is your favorite memory we've shared together?
Where do you see us in the next five years? Ten?
What would you do with your life if you had unlimited funds?
What first attracted you to me?
What do you love most about our relationship?
What could I do to improve our relationship?

Get Close

. Try out your skills as a masseuse. Don't have skills? Take a look

here

for tips. Be sure to clean up your room a little first – get those dirty socks and wet towels off the bed, give pets the boot, and make your room a serene space. Not into massage/the baby won't sleep/someone's sick? Put on some jammies and spoon on the sofa while watching your favorite show. No judgment here – we've all been there!
More than anything, make it your goal to enjoy your time together. Have fun and stay warm!